Bright faces of spring
Topic: Turkmen Traditions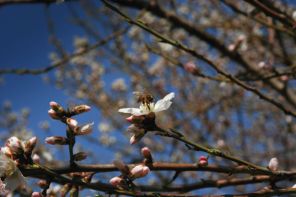 Winter is neither long nor cold in Turkmenistan. Nevertheless, the southerner's soul that used to enjoy the sunlight yearns for the first March heat to replace the gloomy, unfriendly winter sky!
Blossoming fruit trees are the first signal of the season change. It signals the arrival of one of the main holidays - Nowruz Bayramy. Marked annually on March 20-22 within the framework of National spring holiday, it takes a worthy place in the state Turkmen calendar of dates and events.
Nowruz Bayramy is the traditional holiday of peoples of practically all Muslim countries. Yet, if to get into details, this holiday is older than the Muslim religion as such. The day of spring equinox was regarded as the new year's first day starting from the time of ancient Mesopotamia. The first day of spring and awakening of the nature was also marked in Zoroastrism, which was widely professed before Islam in the territories inhabited by Turkmen. Thus, it can be stated with confidence that Turkmen celebrated Nowruz even in the pre-Islamic times.
Nowruz, marking renewal of the nature and arrival of sunny days, was a symbol of worshipping a magic cult of fertility and prosperity. Nowruz-related traditions and ceremonies reflect all spheres of life of the people. People observe them with a view to ensure well-being of their families, neighbors and avert all misery and misfortunes. A ceremony of cooking the ritual meal, the grown cereal grains as a symbol of fertility in cult religion, was on of the basic strictly observed traditions among other ceremonies. A house is being cleaned up in the run up to the holiday. A bounteous feast with numerous guests is the major part of the holiday. According to legends, abundance and variety of meal on the table will ensure plenty of food for a family in the new year.
Some omens associated with the ancient spring holiday are still popular with Turkmen. For example:
If it is cloudy on Nowruz, such weather will hold on till June.
If it is snowing or raining on Nowruz, the year will be plenteous.
The fruits crop will be heavy, if fruit trees bleed on Nowruz.
The grain crop will be bounteous, if weather is cold on Nowruz.
Young people mark the arrival of spring with traditional outdoor games and competitions. The first horse races and dog fights are held during Nowruz celebrations. The modern life of the Turkmen state has added new colors to the bright palette of the ancient spring holiday. Today, Nowruz Bayramy coincides with the celebration of Woman's Day, day of Mother, in Turkmenistan. The deep ancient symbolism of renewal and continuation of life has never better embodied the recognition of women's role in the life of society.
Ahmetjan NURIEV, Culturologist
Turkmenistan Analytical Magazine, March 2005
Posted by countryturkmenistan at 9:29 AM