Accompanied by Eternity
Topic: Turkmen Culture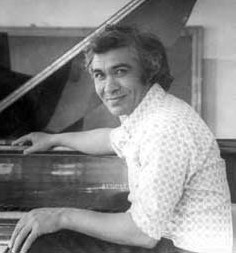 "A PRICELESS PEARL IN TURKMEN ART TREASURY"
Nury Khalmamedov, a noble Turkmen composer, would turn 64 on February 24. President of Turkmenistan Saparmurat Niyazov described his musical legacy as follows: "Nury Khalmamedov's music is a priceless pearl in the treasury of Turkmen art. He is a national asset.
It has been over 20 yeas since Nury Khalmamedov passed away. But, as time goes by, we are getting more and more attached to his music. During the years of Turkmenistan's independence a younger generation has taken a greater interest in composer's works. Today, again and again, we listen to beautiful melodies and think over the phenomena of the composer's creative personality, open up many new things that were unknown, unnoticed and underestimated before.
It is interesting that already in the first year of independent existence of Turkmenistan the President of Turkmenistan conferred a title of "National artist of Turkmenistan" (post mortem) on Nury Khalmamedov by a Decree of December 11, 1991.
At one of his meetings with country's people of art Saparmurat Turkmenbashi shared his precious memoir of Nury Khalmamedov: "Once I visited his modest one-room flat. He played Kechpelek for me and other melodies that time. I was charmed. It was clear that this man needs neither titles nor money. Only music mattered to him. His thoughts and feelings were in it. And he became an internationally recognized composer that was no less genius than any other composer of world significance."
43 years that Nury Khalmamediv lived in were a very short life, full of unstoppable work of his creative mind and continuous ascent to spiritual peaks. It was a life of an artist that gave birth to the music of different genre, unique by its beauty and deepness, sincerity and truthfulness. Nury Khalmamedov's music is addressed to all and every one in particular. It makes one think and be compassionate, throb and admire.
Let us just think over some facts of the composer's working life: he wrote his first romance aged 19, choosing for it one of the most tragic poems of Makhtumkuli called "Outlaw"; when he was 22 he wrote his famous composition "Sounds of Dutar"; in 23 – no less popular composition, a symphony, "Turkmenistan". Everything is striking in these compositions – the highest art level, artistic maturity, amazing nature of musical language, every tone of which is filled with lively breath, intonation and rhythms of native music. A few young authors would dare take so boldly on putting the Makhtumkuli's poetry in music. Throbbing at the great name of the famous classic, Nury saw in his every word the greatness of the poet's ideas, felt the highest beauty and perfection of his phraseology. Otherwise he would never create such spiritual melodies, pierced by truly national colors. Mollanepes, Kemine and other XIX-XX centuries poet's poems, among which Kurbannazar Esisov's name, so close to the composer by his spirit and world outlook, was frequently mentioned, also served as a basis for Nury Khalmamedov's vocal music. Nury used to sense relative to his soul feelings and thoughts in many other archetypes of the world poetry. This was the way vocal cycles on Esenin's "Persian tunes" and Heine's "People's hearts" were borne. Thanks to Nury these poets' names that lived in different periods of history and far from each other geographically got recognition in Turkmenistan, their poetry's lines were filled with new significance.
During his years in the Moscow academy of music he composed "Sounds of Dutar" – a unique piece of music by authenticity of the musical language and closeness to the traditions of folk music. By dedicating it to Mylly Tachmuradov, the composer thus expressed his veneration for the great playing skills of the folk musicians (bakhshi) and a musical instrument (Dutar) itself. The music lines of this perfect composition confirm a truly national character of the musical thinking of the young author. And further on, there were precious pieces of Dutar music in every work of Nury, with each one distinguishing from another, not repeating themselves and, every time, in accordance with the content and genre of musical composition.
Fundamental knowledge of the world classical music, personal musical interests (Betkhoven, Schubert, Skryabin and other composers) were not only of use in the formation of the original music style but also helped in the search of the individual pattern of works. For Nury a symphony orchestra was not simply a consonance of various instruments. In his music it sounded, "spoke" in native language of the composer, it became an obedient transformer of the musical ideas, forming a solid philosophical system based on the infinity of the national art values. Symphony "Turkmenistan" is an inspired, vivid and emotional composition that composer's generous talent filled with beautiful melodies, national rhythmic and folk instrumental plays. It is hard to imagine a life without this music. It beams extraordinary clear light. It is like mountainous air, it's the people's soul.
In "Turkmenistan" the composer sang of his Motherland, he dreamt it was very beautiful and flourishing region, in which a man and nature lived in harmony. Laconic and at the same time precise in meaning names of the Symphony's parts ("Awakening", "In the gardens of Turkmenistan", "A sunny holiday") are perceived as divine today.
Nury Khalmamedov, as an artist and men, took people's pain to the heart, which was reflected in many of his compositions. The bottom line of such compositions as string quartet "In memory of women and children killed in the Nazi torture chambers", vocal symphonic poem on Ezizov's poem "In memory of heroes killed in World War II", vocal cycle on Japanese poets' lines of the 20th century "Unfinished songs for children of Hiroshima and Nagasaki", in spite of their antiwar nature, was the historical memory. There is no musical reproduction of the battles and struggle but only compassion in them. The more there is lightness as in the Japanese cycle, pierced by sun, warmth and placidity, the more tragic it is.
Nury Khalmamedov's legacy is the remarkably rich spiritual world heading for Eternity. It is the world that embraced many things – veneration for folk songs, folk musicians, greatness and wisdom of classics. Folk art was a native environment, a spiritual source for the composer.
The works of Nury Khalmamedov is a powerful spiritual connection between the past, present and future of the Turkmen people.
Lubov NOVIKOVA,
Professor of the Turkmen National Academy of Music
"Neytralniy Turkmenistan" newspaper, 24.02.04
Posted by countryturkmenistan at 9:52 AM