Turkish Company to Build $68 mln Worth of Apartment Blocks, Kindgarten and Trading Centre
Topic: Economy & business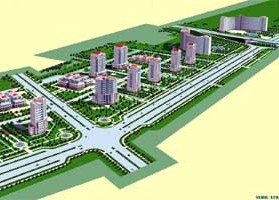 27 July 2005. The Turkish company Sehil has made a record contract for construction of seven tower blocks, a kindergarten and a trading centre in Ashgabat. Almost 280 families will celebrate house-warming parties and 160 children will go to the new kindergarten in the southern part of the Turkmen capital in October 2006. the total sum of the project including construction of the underground parking place and improvement of the adjacent territory is around 68 million US dollars.
The customers and future owners of those objects are the Ministry of Economy and Finance, the Central State Tax Service, the State Insurance Organisation of Turkmenistan, the Central Bank, the Turkmenistan State Commercial Bank and the Senagat Joint-Stock Commercial Bank. The Ministry of Economy and Finance and the Central State Tax Service will be financed from the State budget, the rest will pay for construction at their own expense.
Such a large contract made by the company can be explained by the high quality and timely fulfillment of the construction operations made by it. Last year Sehil put into operation the largest and most comfortable kindergarten in our country, several houses for the law-enforcement agencies and the Turkmen-Turkish Friendship Park in Gindivar opened two months ago.
The Turkish builders complete reconstructing the Ashgabat Hotel. The white-marble building of the hotel, one of the first tower ones in the capital, will be decorated with stained-glass windows and the adjacent territory will be part of the theatre square constructed in that district. Sehil will be also a subcontractor of construction of a metallurgical plant near Ashgabat.
With the beginning of construction of anew complex in Bitarap Turkmenistan Avenue the amount of contract objects of Sehil makes it one of the leaders on the construction market of Turkmenistan.
State Information Agency of Turkmenistan (TDH)
Posted by countryturkmenistan at 1:43 PM
Updated: Wednesday, 27 July 2005 1:44 PM