General Information on Turkmenistan
Topic: Turkmenistan Information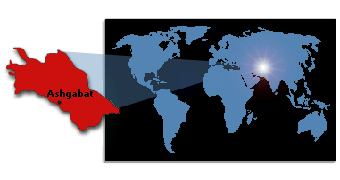 Area:
488,100 sq km
Location:
Central Asia. Turkmenistan is bordered by the Caspian Sea to the west, Kazakhstan to the north, Uzbekistan to the east, and Iran and Afghanistan to the south.
Territories:
Five administrative territorial provinces, or velayat:
Akhal, Balkan, Dashkhovuz, Lebap, and Mary
Terrain:
Flat-to-rolling sandy desert with dunes rising to mountains in the south. The Kara Kum desert comprises 80 percent of Turkmenistan's total area and is bound by a series of oases watered by the Amu Darya River in the north and by the Murgab, Tejen, and Artek rivers descending from mountains in the south. The Kara Kum Canal supplies water from the Amu Darya, west towards the Mary Oasis and onwards to Ashgabat.
Mountains:
Kopetdag (highest point 2919 meters or 10,508 feet) located along the Iranian border in the south; Bolshoi (1880 meters or 6768 feet) and Maley Balkan (777 meters or 2797 feet) are located to the north-west of Kopetdag; Koitendag Peak (3137 meters or 11,293 feet) is located in the east on the border with Uzbekistan; Garabil and Badkhyz peaks are located in the south-east (slightly under 1000 meters or 3.600 feet in height)
Climate:
Subtropical desert
Official Language:
Turkmen. Russian is also widely spoken.
Religion:
Sunni Muslim
Legal System:
Based on civil law system
National Legislature:
The Khalk Maslakhaty (People's Council) is the ultimate representative body, which meets once a year. The Mejlis (National Assembly) is the main legislature.
National government:
Cabinet of Ministers, chaired by the President.
Electoral Suffrage:
18 years of age
Literacy:
98% over age 15
Education:
Compulsory until age 14
Raw materials:
oil, natural gas, coal, precious non-ferrous and rare metals, celestine, sulfur, bentonite and kaolin clays, iodine, bromine, potassium and common salts, marble onyx, various construction materials, fresh subsoil, mineral waters
Main exports:
natural gas, oil, cotton, sulfur, hand-made carpets
Major Crops:
cotton, wheat, melons
Currency:
1 manat = 100 tenne
Source: www.turkmenistanembassy.org
Posted by countryturkmenistan at 11:00 AM
Updated: Sunday, 29 May 2005 11:55 AM