Turkmenistan to Weave Countrywide Textile Network by 2010
Topic: Economy & business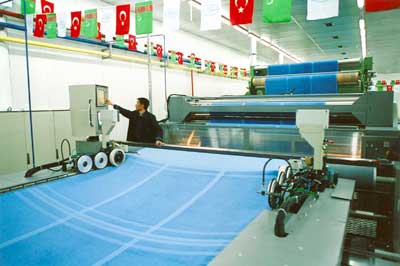 Ashgabat, 27 May 2005 (nCa) --- Addressing the opening ceremony of a couple of textile mills Thursday, President Niyazov announced that by 2010 the remaining 26 districts of Turkmenistan would have at least one textile complex each.
His remarks came during the inauguration of two textile units, one in VekilBazaar district of Mary province and the other in Halach district of Lebap province.
At present 21 districts have got textile processing and production facilities, a quantum jump since independence when only Ashgabat, Mary and Turkmenabat (then Charjou) had some rudimentary textile mills and the rest of the cotton of Turkmenia SSR was sent by the red Kremlin to Ivanov industrial town near Moscow for processing.
Under the national development programme up to 2020, Turkmenistan is building its textile complex on the principle that any district that wants to have a textile unit should be able to produce adequate volume of cotton to keep the factory running.
The VekilBazaar textile complex built by Angin-led consortium combines spinning, dyeing, weaving and stitching felicities. Spread over an area of 20 hectares, it can process 10220 tons of cotton yarn annually to produce 63.7 million square meters of fabric.
Swiss and Belgian machinery has been used in the factory and it has opened 300 new job vacancies for the local population.
Angin Kaliy (phonetically spelled), Head of Angin was present during the opening ceremony. His group of companies has already built textile factories in TakhtaBazaar, TurkmenKalla and SakarChag districts of Mary province.
Another textile factory was opened in Halach district of Lebap province. This factory has been built by the Turkish company Norsel, one of the oldest foreign companies in Turkmenistan. First phase of the factory had been opened earlier and now the factory has been completed according to planned specifications. The entire project cost US $ 27 million.
The Halach factory is equipped with German and Swiss machinery. It is designed to process 10100 tons of cotton fiber annually. It can produce 9100 tons of quality yarn and a wide range of downstream products. Most of the products of Halach are expected to find an export market, with the likely annual profit of 60 billion Manats.
Based on the quality of Halach factory, President Niyazov asked the head of Norsel to start another textile project in the locality in January 2006. The new project would be a composite unit, taking in raw cotton and churning out garments and textile made-ups.
Niyazov also asked the ministry of textiles and Turkish company Gap Inshaat to design another textile project for Turkmenabat district. He also said that by 2010, all the cotton producing districts would have at least one textile complex each.
The Turkmen president went on to praise Turkmen-Turkish relations. "Relations between Turkmenistan and Turkey are unique and need no political back-up. These relations are based on mutual advantage and benefit. And no party or state leaders are involved in this process," Nyyazow said, adding: "Turkmenistan is ready to back up Turkey and to come to its assistance whenever Turkey has any trouble and needs assistance."
Posted by countryturkmenistan at 1:46 PM