Karakum Desert
Topic: Turkmenistan Information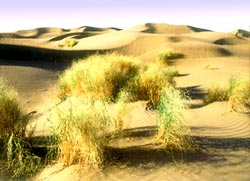 The
Karakum Desert
, also spelled Kara-Kum and Gara Gum ("Black Sand") (Turkmen: Garagum, Russian: Karakumy) is a desert in Central Asia. It occupies about 70 percent, or 350,000 km?, of the area of Turkmenistan. The population is sparse, with an average of one person per 2.5 sq miles.
Location
It lies east of the Caspian Sea, with the Aral Sea to the north and the Amu Darya river and Qyzyl-Qum desert to the northeast.
Hydrography
The Murghab and Tejen rivers flow out of the Hindu Kush Mountains to the south and empty into the desert, providing water for irrigation.
The desert is crossed by the largest irrigation canal in the world, the Qara-Qum Canal. The canal was started in 1954, is 1,375 km in length, and carries 13 km? of water annually. Unfortunately, leakages from the canal have created lakes and ponds along the canal and the rise in groundwater has caused widespread salinization.
Economy and resources
The oases of Mary and Tejen are noted for cotton growing.
The area has significant oil and natural gas deposits.
Transportation
The desert is crossed by the Trans-Caspian railway.
Wikipedia
Posted by countryturkmenistan at 11:32 AM