The Great Seljuk Turkmen State
Topic: Turkmen History
This State was founded in 1040 by Togrul and Cagry Begs after their victory in the Daodanakan War against the Gaznalys. The Seljuks are from the Kynyk tribe of Oguz.
The Seljuks underwent a very troubled period after arriving in Khorasan. When Seljuk Beg died, he was over 100 years old. In his old-age, leaving all else aside, he brought up his grandsons, Togrul and Cagry Begs. The son of Seljuk Beg, Arslan Han, settled on the Nur Plateau near Buhara, taking Togrul and Cagry Begs with himself. The sole aim of the two brothers trained by Seljuk Beg was to make Khorasan their homeland.
To attain their goal, Cagry Beg together with his brave men crossed over Khorasan to reach the Roman Land (Anatolia). The two brothers' intention to conquer Khorasan intensified after the arrest and imprisonment of Arslan Beg by Gaznaly Mahmyt.
After crossing the Jeyhun River in 1035, they settled near Takgala. They informed Soltan Mesut of their intentions in a letter. In it they demanded that Soltan Mesut grant them for settlement the Nusay and Paraw provinces, where they would put their animals out to pasture. They stated that they could suppress the insurrections likely to happen in the corridor from the Balkan Dagi, Dehistan, and Urgenc frontiers to the banks of the Jeyhun River.
Soltan Mesut, who did not accept their offer, fought with the Seljuks near Takgala in 1038. Soon after, in 1040, there was another battle near Sarahs on the Daodanakan Plain. By way of war the Seljuks gained the things they had not been able to attain peacefully, and laid the foundations of the Great Seljuks' State.
This victory made the fatherland their property forever. After the war, they summoned a council and declared their independence. Togrul Beg received the title of 'Soltan'. They made the city of Rey their capital (1040-1063). Cagry Beg stayed in Merw (1040-1060). The two brothers ruled the state in unity and cooperation.
In 1063 Alp Arslan, the son of Cagry Beg, ascended to the throne. Alp Arslan was the great Soltan who unlocked the gates of Anatolia. His son Malik ?ah expanded the borders of the Seljuks and his son Soltan Sanjar promoted improvements in science and civilization.
The Great Seljuk State promoted Islam along with the Oguz culture, and in this way they enlarged their frontiers from Istanbul to China. Furthermore, being a great state, the Seljuks were honored as being the guard of the entire Islamic World. In addition, intending to dominate the world, they treated the people under their rule equally and justly and made great progress in the realms of culture and civilization. They improved the whole country, building roads, bridges, caravanserai, small mosques, madrassas (schools, universities) and hospitals.
Saparmurat Niyazov "Ruhnama"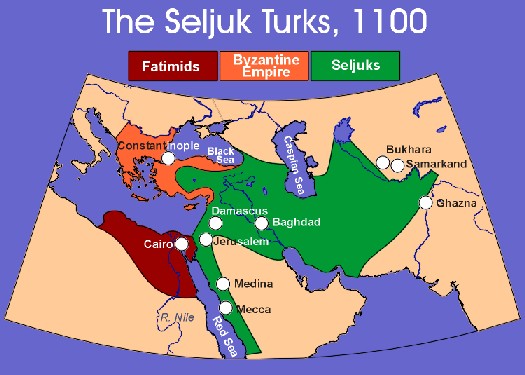 Posted by countryturkmenistan at 11:57 AM
Updated: Friday, 8 July 2005 12:06 PM