Childern's Park of Turkmen Tales Will Open in Ashgabat Next Year
Topic: Health, Education, Social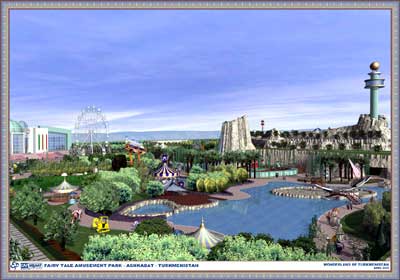 26 July 2005. About one year is left before opening a unique children's park of sideshows in Ashgabat and construction operations are at full swing at the area of 33 hectares. In autumn the specialists of the Turkish company Gap Insaat will start planting trees and shrubs and purchasing equipment for the sideshows. The largest park in the region called the World of Turkmen Fairy-Tales (its total sum is 50 million US dollars) is being constructed by the order of the Ministry of Education of Turkmenistan and is being financed from the State monetary reserve.
According to the architects' design the main natural and climatic zones of Turkmenistan will be presented in miniature. The playgrounds of the entertaining complex will be surrounded with the reduced copies of the Kopetdag Mountains, the Karakum Desert, the Amudarya and the Karakum River. In that part of the park dozens of sideshows meeting the international standards of safety will be installed. There will be three-dimensional images of the personages of Turkmen fairy-tales and representatives of the vegetable kingdom of Turkmenistan everywhere.
The visitors of the World of Turkmen Fairy-Tales will have a great choice. They will be able to ride various merry-go-rounds and a big dipper, to make a trip along the river or visit a gallery of laser effect. There will be a special playground for small children; the bigger children will be able to visit pavilions with videogames and a covered arcade. The parent will spend time playing billiards, darts, or bowling.
Trees, shrubs and flowers will grow everywhere; there will be benches, arbours, fountains and original lamps along the paths. Cafes, rental agencies, shops and photo studios will also work there. The technical services and administration of the park will occupy a two-storeyed building with the total area of 7,000 square metres.
That district of the city will have changed beyond recognition by the 15th anniversary of independence and it will be a favourite place of rest. Close to the World of Turkmen Fairy-Tales a puppet show will work, an aquatic complex will be opened and the Ashgabat River with a park zone along its banks will stretch to the south of the park.
State Information Agency of Turkmenistan (TDH)
Posted by countryturkmenistan at 6:09 PM
Updated: Thursday, 28 July 2005 6:18 PM