Homespun Silk
"KETENI" CLOTH IS AN OBJECT OF ONE OF THE WONDERFUL
TRADITIONS OF THE TURKMEN PEOPLE
Every time she starts her work on the weaving loom Keyik Geldimuhamedova apeals to Goddess Ashe Patma, the saint patroness of female fancy-work. This is a request to bless her laborious work so that threads don't become entangled and the cloth doesn't get spoiled. Her mother, grandmother and great grandmother used to offer this prayer before the start of work. Being from the village of Sunche, a settlement famous for silk fabrics where silkworm breeding has been flourishing since the ancient times, Keyik dayza, the hereditary weaver by origin, has devoted over sixty years to making wonderful and unrepeatable fabric "keteni" having taken over the secrets of this old and uneasy trade from her mother in the childhood.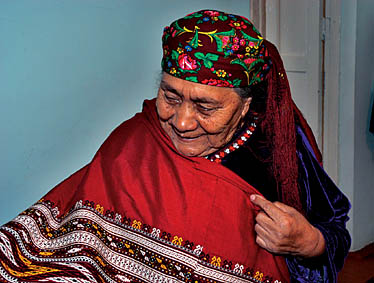 Turkmenistan is home to the homespun silk cloth "keteni". The weather conditions of the region have always promoted cultivating high grade mulberry plantations. From times immemorial, Turkmens have been successfully dealing with silkworm breeding. Owing to its durability, brightness and beauty of design, their homespun fabric was very valued and was in big demand not only among the local population.
One of the peculiarities of "keteni" cloth is its coloring that is determined by the quality of dyers. Using the ancient technology, fabric was dyed primarily with natural dyers distinguished by the intensity of tones, extreme durability and ecological purity. Producing natural and mineral paints is a complicated occupation requiring certain knowledge. While preparing the dyers, it is necessary to observe balance in weights strictly. For this purpose, Turkmens used special scales. As a result of dyeing, the cloth acquires not only new coloring but a particular strength.
Since times immemorial, the preference was given to the red color throughout Turkmenistan. According to local beliefs, the red color possesses magic qualities, protects from the evil forces. In addition, the Turkmen people have always identified the red color with something beautiful and joyous. Red color was especially popular among girls and children. In general, the clothes of youth were bright, whereas older people wore rather modestly colored clothes.
Madder is one of the sources of the red color for Turkmen masters. This plant has been cultivated since the old times. It gives good yields on salty soil where other plants don't grow. To get blue and light-blue colorings the Indian blue nil is used. In the dyeing production the pomegranate peels, onion peel and tea are also applied. The color range of keteni cloth turned out by Turkmen weavers is very diverse. Master Keyik Geldimuhamedova's palette alone includes 18 colors.
To fasten the cloth women used alum and to whiten it potash and coal ash that gave the fabric unusual whiteness. Starch boiled from wheat flour was also used in the textile production. Specially treated, starched and glossed, "keteni" produces charming impression of the divine fabric, radiates luster and wealth. One feels indescribable trepidation emanating from it. Even smell and rustling of the cloth cast a spell.
Both Turkmen men and women have been wearing keteni garments since ancient times. If men's fashion was limited to shirts only, women found broader application of the homespun silk cloth making the whole wardrobe of dresses and headscarves of it. Coverlets, turbans and child-wear were also spun from the yarn. Keteni dresses still make up a bride's traditional attire and continue to fulfill the primary role to make a young lady irresistibly beautiful and, thus, happy.
As was mentioned, the silk cloth "keteni" has always been popular and fashionable among people. Nowadays, it literary experiences the second birth. The boom of this fabric is observed in the Turkmen fashion industry. Shops that any recognized center of world fashion could envy are being opened in Ashgabat. Wonderful dresses in various styles, beautiful shawls with hand-made embroidery, woven lady handbags, bags for cosmetics, headscarves and kerchiefs are of perfect quality, thought-out to details and can satisfy the taste of the most demanding fashionable woman.
Today, like in old times, making "keteni" cloth remains mostly a home-made trade. This work, like any manual labor, is extremely laborious and labor intensive. Turkmen women still use the old spinning looms "tara" that have been preserved since ancient times and produce high quality articles striking by their perfection of decoration. It is enough to look at "duypli gynach", a triangular shawl reaching 3 meters at the base and sewn from woven stripes of different colorings of the red color in combination with white, blue and green colors. The external side of the shawl has a multilayer woven ornament also made at "tara" looms. Technically, ornamental weaving is much more complex than embroidery. It requires accuracy and knack, because the ornament is facing ground when being woven. Adapting to such conditions, women use a mirror during the work to see that the symmetry of the classical ornament is not broken.
Women fancy-work has been the most important part of the Turkmen people's daily life. Nowadays, the Turkmen women carefully preserve and creatively develop the local traditions of weaving. Keyik Geldimuhamedova's five daughters followed their mother's track and are occupied with sewing articles from "keteni".
Ajap BAIRIEVA, Ethnographer, Doctor of History
www.turkmenistaninfo.ru
Posted by countryturkmenistan at 4:53 PM