Important Information about Caspian Sector of Turkmenistan
Topic: Economy & business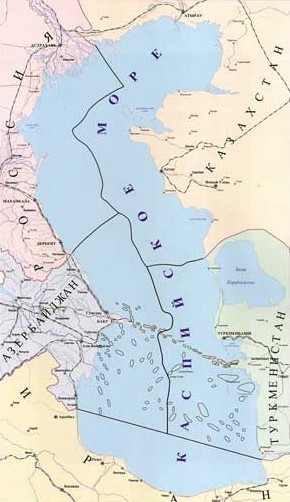 Ashgabat, 9 November 2005 (nCa) --- During the Oil and Gas Turkmenistan conference Wednesday, Khushgeldy Babayev, Turkmenistan's point man on Caspian issues, gave a presentation that was arguably the most informative speech of the day. He gave vital details about the Caspian sector of Turkmenistan and briefly described the activities of the foreign PSA holders.
Here is the complete text of his presentation:
Cooperation Priorities in the development of the Turkmen Sector of the Caspian Sea and the Transition Zone
Presentation by Khoshgeldy Babayev, Chairman of Turkmenistan President's State Enterprise for the Caspian Sea
Turkmenistan's growth strategy is based upon the national programme called the "Strategy of Economic, Political and Cultural Development of Turkmenistan until 2020".
The most promising basis for implementing the National Strategy is by developing oil and gas resources of the Turkmen sector of the Caspian Sea and its adjacent coastal areas. All conference participants certainly aware of the significant contribution of hydrocarbon resources of the Caspian region to world energy balance. The Turkmen Caspian sector represents its critical component. In Soviet times Turkmen geologists conducted seismic studies totaling770000 linear kilometers of seismic profiles, including 3150 kilometers in the Middle Caspian.
During the years of Turkmenistan's independence between 1995 and 2000, Western Geophysical, which was among those responsible for implementing the Turkmen government's programme, used the regional seismic grid to map the entire Turkmenistan Caspian sector. The scope of this work totaled 16130 linear kilometers.
An up-to-date seismic data base was obtained, which helped supply the Turkmen government with the most accurate information on oil and gas reserves. For the first time, data on deep-occurring geological boundaries was obtained, which served as the critical technical basis for evaluation and classification of hydrocarbon potential as well as for identifying further strategies for raising foreign investment in the oil and gas exploration and production projects.
As a result of processing the earth science data, an undertaking in which Turkmen staff and Western Geco experts participated, an assessment was made of possible and future hydrocarbon resources of the Turkmenistan Caspian sector. They are estimated to be 11 billion tons of oil and 5.5 trillion cubic meters of gas. In other words, more than half of oil reserves and around 25 percent (one quarter) of Turkmenistan's natural gas reserves are concentrated in the Turkmenistan sector of the Caspian Sea.
Within the Turkmen Caspian sector, two major oil-and-gas-bearing basins have been identified on the basis of specific geological features, namely Middle Caspian and South Caspian, divided by a transition zone.
Middle Caspian oil and Gas Basin is relatively less studied with geological and geophysical methods and has potential for oil and gas in Mesozoic and Paleozoic formations. Near the Turan Plate fringes, an area has been identified which became known as an "onlap / pinch-out trap zone".
Based on the unique features of how oil and gas traps were formed within the studies area, the following oil and gas accumulation zones have been revealed in this region.
Interpretation of the seismic data indicates that the potential of the Middle Caspian is likely associated with carbonate reservoirs that settled on the edge of the continental shelf, rather than with structural traps of terrigenous rocks.
A number of prospects such as Charlak, Garadashlyk and Ak-Deniz are examples of possible reef structures in the Miocene cross-section within a shallow-water area of the Turan Plate.
Within the transition zone, inversion depressions and the Khazar-Osman Swell have been identified, their potential predominantly linked to Cenozoic deposits.
The Apsheron-Khazar Swell was interpreted as a boundary of continental crust of the Scythian-Turan Plate and oceanic crust of the South Caspian Basin.
The Khazar-Osman zone has been indicated to be confined to clayey diapir uplift. This area is characterized by multiple trusts associated with re-activation of more ancient normal folds and further clay diaprism. The diapir uplift and thrusts stretch from northwest toward southeast.
The geosynclinal South Caspian oil and gas Basin is characterized by a great diversity of highly potential zones, primarily in Neogena sequences. As of today, the best explored areas include: the Ogurdzhaly-Bilal Val (Swell), the Western zone of diapirs, the delta complex, the zone of clayey upwarps, the Southern zone of clayey diapirs.
In the northern areas of the Southern Caspian, seismic studies revealed the NW-SE Ogurzhaly-Bilal Swell. The 2005 recommendations include assessment of prospective hydrocarbon resources within the confined anticlinal traps of the swell.
Blocks 18, 19, 20, 21, 22 and the marginal north-eastern sections of blocks 27, 28, 29, 30, 31 are believed to be highly prospective in terms of potential identification of stratigraphic oil and gas traps in the paleodelta complex.
Seismic data from the western section of the Ogurdzhaly prospect has revealed clustered channels and a hilly pattern of the peleodelta complex in the upper-redstone cross-section.
North-eastern sections of blocks 26, 27, 28, 29, 30 and 31 tectonically lie within the zone of clayey upwarps. Here, shifting clay, scoop-shaped fractures and related bending structures are found.
The northern section of block 24 tectonically lies in the western zone of diapirs. Here, large structural uplifts are located, which are linked to tectonic disturbances and are complicated by clay dipirism under excess pressure.
South-western sections of blocks 25, 26, 27, 28 and 29 tectonically occur in the southern zone of clayey diapirs. Here, unexplored traps closed along dips and fractures are located, stretching from west-north-west to east-south-east. Clay diapirism suggests the presence of highly abnormal pressures.
In conclusion of this geological overview, I would like to point out that the consistent patterns of the location of oil and gas deposits, established on both land and sea areas of the Middle Caspian and South Caspian oil and gas basins, as well as the latest geological and geophysical data, make it possible to highly assess the above oil and gas accumulation zones in terms of the potential of large oil and gas discoveries.
In this regard, I would like to briefly dwell on thee results of oil operations of foreign oil companies that operate under the Production Sharing Agreements within four prospective blocks.
Dragon Oil
This year, Dragon Oil is to produce in this block more than 900000 tons of oil. The share of offshore production in nationwide total oil production has reached 6.4%.
In 2004, a new stationary platform, LAM-21, was commissioned. This year, two wells were successfully drilled – Dzheitun 10/110 and 10/111. Both wells were drilled using a directional drilling technique. These wells are currently under operation and are developed in three productive horizons of the redstone formation. The use of new equipment and technology by the company enabled it to obtain daily flow rates of oil from the new wells ranging between 400 tons and 600 tons.
In 2006, the company expects to drill and bring on-stream another eight new wells. Also, drilling of one appraisal well, West-A is expected at the Dzheitun field, which is hoped to deliver an increase in oil reserves in this field.
Dragon Oil is significantly expanding its prospecting operational area. This year, PetroAlliance Services Ltd. completed a 3D swidmic survey aiming to identify optimum drilling locations for potential new wells. The study area covered 652 square kilometers. Furthermore, during this work, seismic data were gathered using an ocean bottom cable drawn across the Dzheitun and Dzhygalibeg fields. The maximum design study depth was 6 kilometers below the seabed surface. Seismic data interpretation is performed by France's CGS (Companie Generale de Geophysique). The scope of investments Dragon Oil has earmarked for the contractual acreage in 2006 is estimated at US $ 280 million.
In 2010, Dragon Oil hopes to bring up the annual production rate to 2.5 million tons of oil.
Petronas
Petronas has drilled seven wells in its offshore prospect; all of them have yielded commercial inflows of oil, gas and condensate. Daily oil flow rates in the wells vary from 600 tons to 2000 tons.
As my esteemed colleagues know, Petronas has conducted a set of geological and geophysical studies, including 2D and 3D seismic surveys, as well as drilling exploration and appraisal wells. The results of these operations have helped significantly expand the field productivity range in terms of both the surface area and downhole operations.
In order to ascertain reserve calculations for Block 1provided by Petronas, a contract was made with Gafney Klein for an expert review of the identified hydrocarbon reserves.
During this year, Petronas put in significant efforts to prepare the contract area for pilot commercial operation of the oil and gas fields. A Mobile Offshore Production Unit (MOPU) and an Offshore Oil Storage facility were constructed. At present, they have been delivered to the Caspian Sea and are being installed at the production site.
This year, the company began construction of an onshore gas terminal at Gyyanly and sections of a self-mounted production platform in Malaysia.
Petronas expects to launch a full-scale development of the oil/gas/condensate fields in its block in late 2007.
Maersk Oil
A turning point in the history of development of Turkmenistan's oil and gas resources came with the signing of a Production Sharing Agreement on the unified block 11-12. The critical significance of this event is in the fact that for the first time ever, oil and gas prospecting operations were taken to the Middle Caspian oil and gas basin, an area of huge oil and gas potential associated with three prospective oil and gas bearing complexes: Paleozoic, Mesozoic and Cenozoic. The Cenozoic complex is confined to southern sections of the offshore blocks 11-12 at the junction with the South Caspian mega-depression and is also characterized by favourable conditions for potential discoveries of oil and gas deposits of lithologo-stratigraphic type.
Project operator here is the Danish company Maersk Oil. Today, 2D seismic studies have been completed, which yielded a total of 5070 linear kilometers of seismic profiles. As a result of seismic data interpretation, large oil and gas traps were revealed, and the Garadashlyk prospect was identified as the top priority for construction of a prospecting well. The well design depth is 3900 meters. Sea depths range between 20 meters and 80 meters. Drilling of the well is ongoing as we speak.

Wintershall
Wintershall signed an agreement with the Turkmenistan ministry of oil and gas industry and mineral resources for study of northern blocks within the Turkmenistan sector of the Caspian Sea in order to determine the most promising potential oil and gas accumulation zones. As a next step, the company hopes to sign a production sharing agreement for one of the offshore blocks.
Licensing of the offshore projects on the basis of direct negotiations is continuing. At present, we are negotiating production sharing agreements with several companies for six blocks in the Turkmen Caspian sector.
By 2020, the share of investments in offshore project development is to reach 40% of total investments in the oil and gas sector, which have been planned at US $ 63 billion.
Dear Colleagues! A number of significant steps have been taken in the country in order to sustain national environmental safety, which is one of the topmost priorities of the national policy. "While engaging in economic activity, using natural resources, we must always remember that environmental systems are highly vulnerable, and without a caring attitude toward them, future generations would have to make much greater efforts and spend more resources for their production." These words by Turkmenistan's President Saparmurat Niyazov Turkmenbashy the Great express the gist of Turkmenistan's environmental practices, which combine aspects and factors that originate from both national interests and international obligations of our country. Turkmenistan remains true to the principles of active participation in environmental protection and preservation programmes, preventing ecological anomalies on both the national global levels. The country has developed and implemented a number of regulations and laws, such as "On Environmental Protection", "On Subsoil", "On Hydrocarbon Resources", and the National Caspian Sea Oil Spill Prevention and Response Plan.
Turkmenistan has enthusiastically cooperated with Caspian littoral nations under the jointly-developed Framework Convention for protection of the offshore environment of the Caspian Sea. Adopting this crucial environmental protection document was a real step that responded to the letter and spirit of international approaches to addressing the paramount environmental challenges faced by the Caspian., Turkmenistan was one of the first Caspian states to ratify this document.
In step with the concept of sustainable development and principles of international cooperation, the further strategy of our government is based on attracting foreign companies that use state-of-the-art, environmentally safe technology that meets international standards.
I would like to conclude by saying that further details on the offshore blocks to be licensed in the Turkmenistan sector of the Caspian Sea are available from the ministry of oil and gas and mineral resources, which is Turkmenistan's competent authority in negotiations with foreign investors under production sharing agreements. The ministry will provide you with all the necessary legislation and technical data. The technical data is presented as data packages with varying sets of contents of geological, geophysical and technical information.
Thank you and I wish you all the best.
Posted by countryturkmenistan at 12:01 AM