Ruhnama Launched into Outer Space
Topic: Ruhnama
Book Written by President of Turkmenistan Reaches Outer Space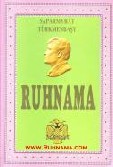 Ashgabat, 26 August 2005 (nCa) --- Ruhnama, a moral and spiritual code penned by President Niyazov of Turkmenistan, has been launched into outer space.
Russian conversion rocket carrier Dnepr released Thursday a capsule containing the flag and standard of Turkmenistan and Ruhnama in the near-earth orbit.
Russia and Turkmenistan started cooperating in space projects in November 2002. A protocol between the ministry of defence of Turkmenistan and Russian space and aviation agency specifies terms for interaction in peaceful development of space.
The protocol was incorporated into the treaty of friendship and cooperation signed between two countries on 23 April 2003.
In June 2003, agreement for joint space activities was signed. Russia has recently offered to expand space cooperation with Turkmenistan.
Dnepr, launched on 24 August from Baikonur cosmodrome, also carried two Japanese experimental satellites - Oicets and Index - to the outer space. The satellites would orbit at a height of about 610 kilometers.
The Japanese side took over control of the satellites after their separation from the rocket.
Russia is using Baikonur under a long-term lease.
This is the fifth launch of the rocket carrier programme Dneprthat is based on ICBM SS-18 and RS-20 design.
The Dnepr booster has a launch weight of 211 tonnes and is highly reliable inexpensive launch vehicle with the payload of up to 3.5 tonnes. Dnepr can be used for launches to high-elliptical orbits and departure trajectories to the Moon of spaceships equipped with upper-stage rockets.
The space project is carried out under the aegis of the International space company "Kosmotras".
In July 2004 Dnepr released a capsule into space, carrying the flag and the presidential standard of Turkmensitan. It was reported that the Dnepr shell was painted with an image of the Turkmen flag.
So far, the Dnepr programme has launched 22 satellites into space. These objects belong to clients from France, Germany, Italy, Japan, Malaysia, Saudi Arabia, UK and USA.
For the next two years, the ISC Kosmotras' plan is to perform six more launches of the Dnepr LV that will deliver into orbit 53 satellites of various countries, the mass of the payloads ranging from 1 to 1,350 kg.
Posted by countryturkmenistan at 11:01 PM
Updated: Sunday, 28 August 2005 9:58 AM